"YOU ARE THE APPLE OF MY EYE" Directed by Giddens Ko


Taiwanese box office hit "YOU ARE THE APPLE OF MY EYE" (那些年,我们一起追的女孩)!

Director: Giddens Ko
Cast: Chang-Hsien Tsai, Michelle Chen, Owodog, Zhendong Ke
Official Release Date:
10 Nov 2011
Based on the same-titled book (that's based on his own story) by popular Taiwanese writer Giddons Ko (九把刀), the Taiwanese production tells a story of a young man, Ko-Teng (Chen-Tung Ko), who has several close friends with a crush on a fellow student, Shen Chia-Yi (Michelle Chen).
Ko and his friends graduate from Ching Cheng's junior high school straight into their senior high school division in pursuit of Shen; the story unfolds with this close-knit group of friends growing up together to witness their beloved Shen walking down the aisle to become someone else's wife, and in the process of recognising their coming-of-age lessons, continue to pursue their own happiness in life.
Member of Lollipop F- Owodog also starring in this movie.
Michelle Chen & Zhendong Ke as couple
I missed all the fun moments during my school's days too!!!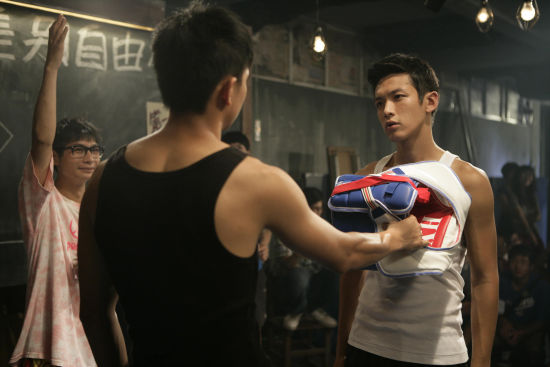 Don't miss this great romantic and funny movie!!!
I had a great laugh watching this movie!
This movie reminded me of my school days!!! The secondary school's puppy love story where all the guys will like the pretty & intelligent girl in the class.
And not forgetting that in every class, there is sure an "Ah Beng" in the class who always get punished by teacher for not doing his homework.
And the fun stuff that every guy will go through during this puberty stage...
Will the pretty monitress end up in love with an "Ah Beng"?
Find out yourself in this movie!!! =)
This is sure a great movie to watch with friends and for loving couple.
Official Trailer:
Official Music Video:
Lyrics for "那些年"
胡夏 – 那些年歌詞[電影《那些年,我們一起追的女孩》主題曲]
作曲: 木村充利
填詞: 九把刀
又回到最初的起點
記憶中妳青澀的臉
我們終於來到了這一天
桌墊下的老照片
無數回憶連結
今天男孩要赴女孩最後的約
又回到最初的起點
呆呆地站在鏡子前
笨拙繫上紅色領帶的結
將頭髮梳成大人模樣
穿上一身帥氣西裝
等會兒見妳一定比想像美
好想再回到那些年的時光
回到教室座位前後 故意討妳溫柔的罵
黑板上排列組合 妳捨得解開嗎
誰與誰坐他又愛著她
那些年錯過的大雨
那些年錯過的愛情
好想擁抱妳 擁抱錯過的勇氣
曾經想征服全世界
到最後回首才發現
這世界滴滴點點全部都是妳
那些年錯過的大雨
那些年錯過的愛情
好想告訴妳 告訴妳我沒有忘記
那天晚上滿天星星
平行時空下的約定
再一次相遇我會緊緊抱著妳
The movie will be officially released
on 10 November (special sneaks 4 November – 7 November).